Trade Show Displays Blog
Welcome to BERLINdisplays Trade Show Displays Blog! Discover tips and information to help improve your trade show displays and point of sale exhibits to stop traffic, engage customers, and showcase your company and products!

Your trade show booth design is an important part of your sales strategy. A well-designed trade show booth offers stopping power, a critical chance to engage with potential customers, and the chance to be memorable to the customer long after the trade show ends. Don't wait until the last minute, plan ahead for the booth design that will enhance and strengthen your trade show sales!
Trade Show Booth Design Timeline
Exhibit Preplanning (Up to a year in advance)
Spend some time preparing for the design process. Know your target market, including geographic sales market. Study the shows you are considering exhibiting in, make notes about what you see in the most successful booths. Line up your objectives, such as sales, budget, target profit, targeted product/line/service and frequency of shows, so that our design experts can create the best customized booth solutions for you and your team.
Design Phase (2 weeks)
Once you speak with our design team and send us the information and needs for your exhibit, our team will get to work, creating a custom booth for your company. With 37 years of experience across North America and Europe, BERLINdisplays has the expertise that will give your organization the edge.
Manufacturing and Shipping (4-6 weeks)
The quality products offered by BERLINdisplays take time to print, assemble, coordinate, and ship, so that you have the perfect, customized trade show booth design you need for an effective exhibit that supports your sales strategy.
BERLIN displays you at your best, offering graphics with stopping power, and clean, clear messaging give your exhibit an eye-catching advantage over the competition!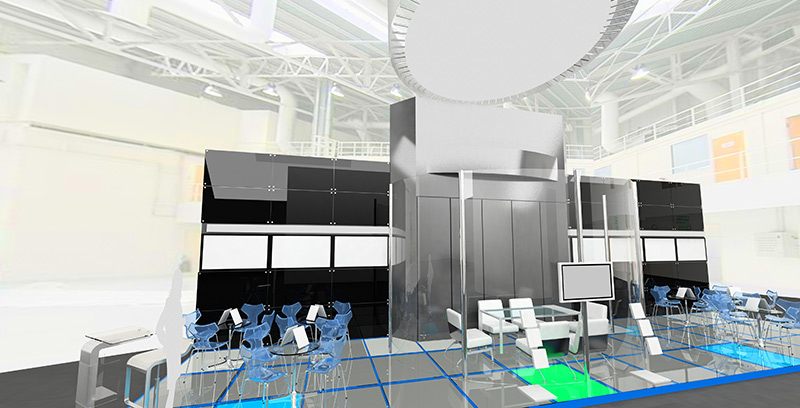 We cannot overstate the importance of a well-designed trade show booth. You only have a few seconds to catch the attention and interest of potential customers, so your first impression is vital! The right design can entice a customer to stop, engage with your representatives, and can help them remember your company and product line. BERLINdisplays can help you create a trade show booth that is both exciting and memorable!
Trade Show Booth Designs need:
Graphics with stopping power.
Instead of wandering by and tucking your marketing materials into a bag, never to be viewed again, you want your customers to stop and engage with your representatives.
What do you want to accomplish? Whether you want to increase sales, generate buzz over a new product, or simply educate consumers/vendors, we can design a booth to support your purpose.
Want to grab the attention of attendees? Exciting, relevant graphics ensure that event-goers stop, engage with your team, and remember your product or service long after the trade show is over.
Clean, clear messaging.
With only seconds to grab the eye, your booth must convey your message without confusion.
What is your primary message? Our design team creates a booth around your needs and messaging.
What images and text will you use for your brand or product identity? We can help enhance what your team is doing with exciting new messaging, or incorporate your own images and text to support your existing marketing campaign
Do you need some flexibility? Will you market more than one product/line at some shows, but not others? We can offer separation of messaging into portable elements, so you can mix and match depending on your needs.
Is your event booth design clear and concise? The most effective displays are clean and uncluttered. You want to catch the attention and whet the curiosity of the passerby, giving your team a chance to engage!
Experienced, expert booth design.
With 37 years of experience across two continents, BERLINdisplays offers expert design services to help you build your booth into a sales tool that can improve your trade show sales results and help boost your bottom line!
How many events will your booth elements be used for? We offer a variety of booth designs and elements that will meet your need for durability and portability.
Are you looking for elements you can pack and transport with your team, or will you have your booth professionally shipped? Our designs are created around your need and actual usage.
What location will you occupy? Corner, ends, islands and in-line booths offer different design possibilities, and we offer elements to catch attention from every angle.
What is your budget? BERLINdisplays offers booth designs and elements for every budget.
Displaying you at your best, BERLINdisplays creates customized trade show booth designs that will offer both stopping power AND memorable messaging!
Banners
Customize Designs
Panel Displays
Pop-up Displays
Pull-up Stands
Table Throws
Table-top Displays
Truss Displays
…and more!